1. How long have you been embroidering? How did you start your machine embroidery journey?
I bought my Brother NQ1400E embroidery machine in February of 2016. I began learning the ins and outs of different types of embroidery designs through trial and error. I really learned with a lot of help from Facebook groups like Tattered Stitch's, where more experienced ladies are willing to share how they do things.
2. What is your favorite type of project to create?
I went to a craft show that my daughter was participating in and saw some embroidered items and thought, 'I can do that!' I have been sewing since I was about 7 or 8 years old so there probably isn't a craft I have tried at some point since then. I started out embroidering mostly in the hoop projects.
3. What was the inspiration behind this project?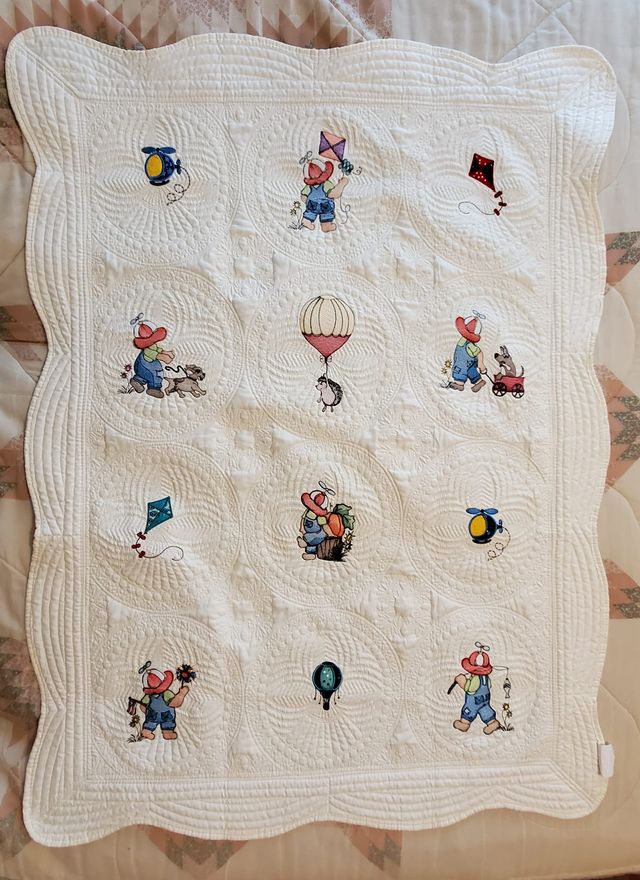 I found a niche in our local craft shows doing hooded character towels for children. I've been embroidering many of these for the last few years along with some other in-the-hoop items. I've recently decided to expand my repertoire with other projects as well.
4. Do you have any tips you can share with our readers?
This heirloom baby quilt was probably the biggest project so far that I have undertaken. I have a friend who was expecting a sweet baby boy and she was moving away. I wanted to make a special gift and loved the Tattered Stitch designs so I decided to do a theme of the Sunbonnet Sam set. I bought the finished heirloom quilt and embroidered all the designs on it first. Since there were only 6 of the Sam designs I had to figure out what to do with the other blocks that needed to be filled. I found some really great baby designs on the Tattered Stitch site: the Kite, Helicopter Applique and the Balloon Alphabet and knew I could incorporate them into my Sunbonnet Sam quilt since they worked so well together. With the inspiration from other ladies [in the Facebook group] using colored thread in the bobbins to make tea towels reversible, I learned that from them and incorporated it into this quilt. Now, no matter which side is up, it's perfect! Thanks ladies!
I have learned so much from the ladies online that are so willing to share their secrets, it's been very helpful. If you have a question, just ask for help, the group is a great family to learn from! The only other tip is that if you are new to embroidering, buy the machine with the biggest hoop you can afford. You will be hooked after you start embroidering!
6. How did you find TSE and what is one of your favorite designs?
I most likely found Tattered Stitch on one of the Facebook hops that I participated in and immediately fell in love with the light fill stitch designs. Gosh, it's so hard to decide on a favorite design from here. Of course the Sunbonnet Sam series is one and I just love the gnomes! Nicole is always coming up with such cute designs that every week I seem to buy more than I can stitch!
---
Thank you Anita! What a wonderful story! Find our Sunbonnet Sam designs on sale now through the end of the month along with some more member favorite featured projects below!
| | | |
| --- | --- | --- |
| | | |
| Sandy P | Patti S | Ann Charlie F |
Recent Posts
Oh wow! The creativity that I am seeing using our newly released Highland Cow! They are all ju …

This week looking at postings and submissions, some oldies but goodies stood out to me. The wh …

As always, the photos and projects that I see posted to our Facebook group continue to just am …