Featured Member for November: Dixie Hedges--Lloyd


1. How long have you been embroidering? How did you start your machine embroidery journey?
I have been embroidering for just under 2 years, but I have sewn on and off for almost 40 years. Three years ago, my mom and I went to a local event hosted by a sewing center, where we got to try embroidery projects on a fancy-schmancy machine. She ended up buying the machine at that point. A year later, I could no longer let her embroider all by herself, so I got my fancy-schmancy machine too.
2. What is your favorite type of project to create?
I love to create a lot of different types of projects with embroidery. I find it fun and challenging to incorporate embroidery into quilts, bags, and other projects, in addition to the more typical towels and pot holders. Basically, if it fits under the foot of my machine, I will stitch it out!
3. What was the inspiration behind this project?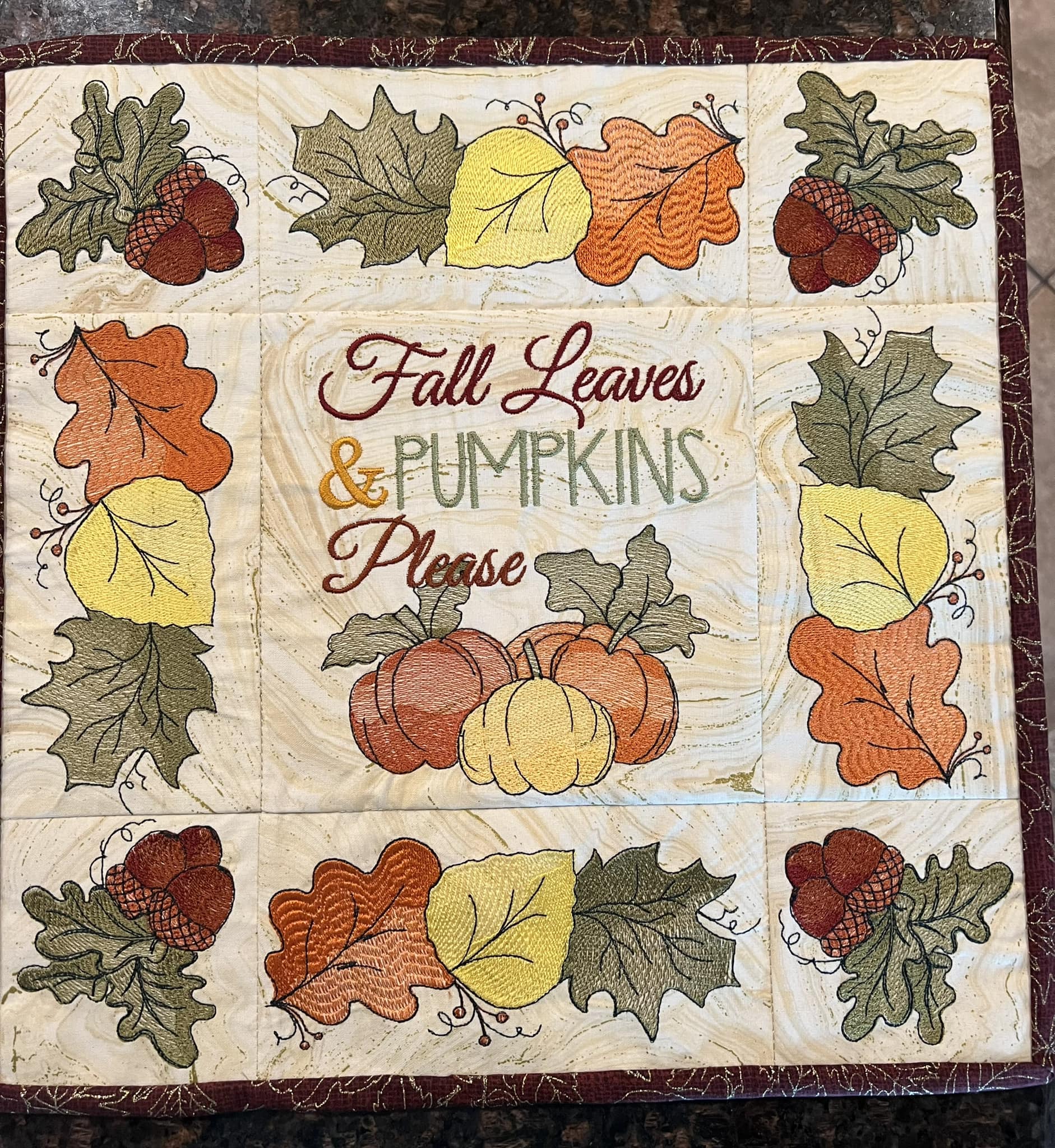 I have a pedestal built into the corner of my kitchen counter, as a result of removing a column that dated the kitchen. Instead of fully ripping it out, which would result in a full kitchen remodel, we opted to make it a pedestal, which I use for flower vases, candy dishes and decorative displays. I wanted a seasonal mat to put there which would mean creating a custom sized project bigger than a mug rug, but not same shape/size as a placemat. When I realized I had enough different fall-themed pattern files (from Tattered Stitch) to build the perfect sized mat, I had to stitch it out.
4. Question: Do you have any tips you can share with our readers?
I love challenging myself to use different color threads and pattern files in ways that they weren't originally intended. Changing thread colors is an easy way to experiment and match to existing projects. Often, I will grab the fabric I am planning to use for the back, binding, or borders, and match my embroidery threads to that, so that the final project is entirely coordinated.
5. How did you find TSE and what is one of your favorite designs?
I believe I found Tattered Stitch in one of the online shop hop events a couple years ago. I don't even know how to pick a favorite design at this point. I have stitched out so many and just when I think one is the best, another one comes along. I do really love the cactus/succulent designs...those are fun, especially the Christmas Cactus.
View links for this project here: https://store-8cn80vpmse.mybigcommerce.com/pumpkin...
https://store-8cn80vpmse.mybigcommerce.com/leaf-tr...
https://store-8cn80vpmse.mybigcommerce.com/3-acorn...
Thank you Dixie for you beautiful and creative project with our designs!
You can find our Fall designs above on sale along with some of our other favorite member submitted projects below!
Recent Posts
With Halloween getting close at hand, it is time to get busy coming up with unique and enterta …

For this weeks amazing projects, our clients focused on something that would help keep one of their …

In a continuation on our Fall theme, we have some amazing creations made by people just lik …